Promote Customer loyalty through Free WiFi
Say goodbye to passwords, vouchers and complicated registration forms. As soon as your customers and guests
connect to your wifi via Email, Facebook, Twitter, Google Plus or LinkedIn, you gain valuable marketing information.
Guest Portal
Within minutes you can create your own customized Welcome Page, called the Guest Portal and use it to show information, news and offers to your customers and thereby to grow your business.
Social WiFi
Enable users to log in using their social media account credentials. Collect in-depth information about your customers including their Facebook "Like" and promote your business in an innovative way.
Automated Messages
Set up automated messages which can be triggered in a multiple of ways. For example: send a loyalty offer to all customers who have visited more than a certain number of times, wish a happy birthday by text message or simply ask for a trip advisor review.
---
Usage Statistics
Access the system usage statistics in real-time. A unique way of acquiring a complete insight into your customers, thereby improving their engagement and their loyalty to your business.
Content Filtering
*Define which categories of websites your customers are allowed to access, protecting them and preventing them from seeing inappropriate content.
Responsive Design
Enable users to easily and quickly access the Internet, using their tablets, smartphones or any other mobile device, thanks to a responsive design.
---
Reviews System
Allow your customers to write certified reviews about your venue and your services. This will allow you to share the best ones on social media networks and on your business website.
Data Collection
Acquire your customers contact details, in full compliance with privacy policies, and use them for your marketing activities
Automatic Connection
Allow returning customers to automatically connect and show a customized Guest Portal (welcome back page) with your current special offers or simply redirect them to your website.
---
How it works ?
The system is simple to use yet there is a powerful marketing tool under the bonnet
Customers connect in Two simple steps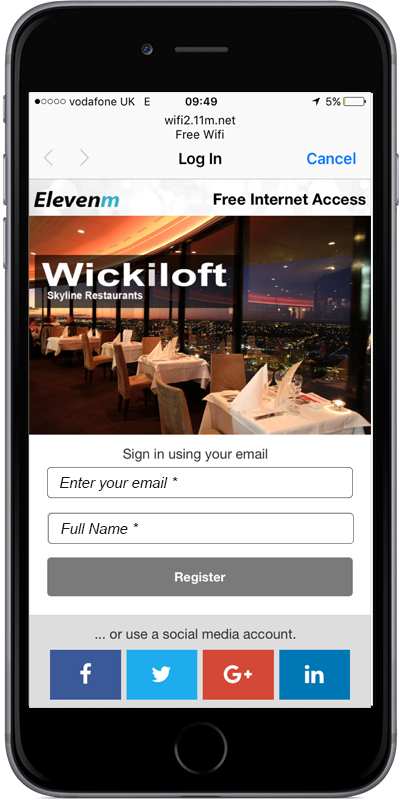 Initial Login
To access wifi a customer has to login using an email address or choose one of the social media options. This needs to be done only once, connection will be automatic on subsequent visits. During this process all data is verified on the fly which means that a random name or email address cannot be used.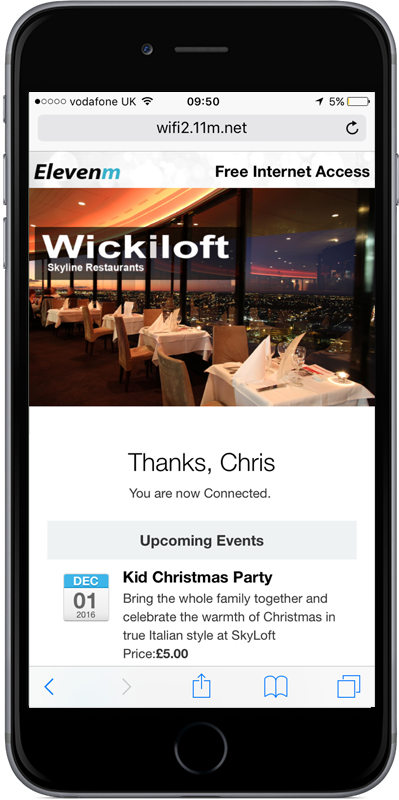 Guest Portal
Once initial login is complete, the user is presented with your customized Guest Portal. This is also the page that will welcome visitors every time they reconnect to your wifi. There is also an option to redirect them to your website.
Once a customer has accessed the free wifi all the data captured will be immediately available through the ElevenM Admin Dashboard where all administration and marketing tools are managed.